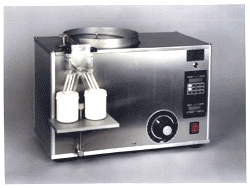 Technical Data :
Machine type : 1217
Width x Depth x Height
43 x 23 x 32 cm
Net-weight : 21,5 kg
Casing : stainless steel
Connected load :220 V /50 Hz/ 55 W
S I M P L E X

-

Tablet - Counting and Filling Machine

Computer-controlled SIMPLEX Counting and Filling Machine all-purpose equipment, suitable for small lots, preferably for pharmacists and the like, including drugstores.

Suitable for all kinds of tablets, dragées and capsules, as well as filling material of similar shape with a diameter ranging from 4 to 15 mm, without any alterations nor additional appliances!

With an integrated counting facility operated by an infra-red photo barrier, mounted in a casing with an attractive design and with operational facilities which (due to realization of ergonomical concepts) guarantee its easy handling both, when in a sitting position or just upright. Very simple operation, cleaning and desinfecting - no working parts resulting, completely electronically controlled running functions: large, digital reading indicating piece number and number of dosages carried out, with an integrated separator for scraps, crumbs and dust by means of pedal switch.

Warranty : One year. This warranty does not cover any faults and / or

damages due to improper handling.

Output : Tablets, capsules and dragées according to diameter:
5 mm 720 pcs. / min.
8 mm 550 pcs. / min.
11 mm 400 pcs. / min
15 mm 250 pcs. / min.