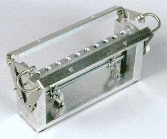 Technical Data :
Machine type : 1499
Width x Depth : 34 x 10 cm
Height : 15 cm
Weight : 2,5 kg
SIMPLEX

-

Clamping Device for Redipac - Receptacles

Clamping Device for Closing Redipac - Single-Dosis-Receptacles

The clamping device can take in up to 10 Redipac - receptacles, which then get pressed together at the aperture for

being closed by heating with a hot-air apparatus or a Bunsen-burner.

The height of the pick-up block is adjustable to make it

possible to put into work receptacles in various sizes.

Warranty : One year. This warranty does not cover any

faults and / or damages due to improper handling.