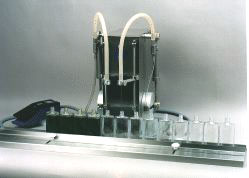 Technical Data :
Machine Type : 1701s
Width x Depth : 100 x 500 mm
Height : 440 mm
Net-Weight : 23 kg
Operation : Adjustable DC-Motor 220 V / 50 Hz
Dosing Range : Stepless adjustable depending on ccm-content of the dosing syringe.
Dosing Syringes : No. 1702s With a graduated glass-cylinder for 10 ccm, 30 ccm or 150 ccm.
No.1702zs compl. made of stainless steel for 10 ccm, 30 ccm, 150 ccm or 250ccm.
Storage Table : of stainless steel, length 100 cm, depth 21 cm, with rail (bar) inside adjustable according to the size of bottles.
Output : Depending on your product, up to 2400 fillings / h
SIMPLEX

-

Dosing Machine

-

semi-automatic

Dosing and Filling Machine, semi-automatic with stepless adjust-able DC-Motor. For filling bottles, jars, tins and other receptac-les. For all kinds of easy flowing liquids (up to a viskosity of a

light sirup). All parts of the machine, which get in touch with

your products are made of stainless steel.

Warranty : One year. This warranty does not cover any

faults and / or damages due to improper handling.

Add./Extra Equipment available according to your needs:

No. 1706s Valves for dosing syringes 10, 30, 150 and 250 ccm

No. 1707s Filling Needle in diam. 2,5 - 5,0 - 8,0 - 10 mm Æ

No. 1708s Three-Way-Filling Needle ( "Y"-piece) if more than

250 ccm have to be filled in one receptacle.

No. 1710 same as above in explosion-proofed version

Special voltage / frequency available on request.